Thermoplastic sealing techniques:
In dentistry, thermoplastic endodontics consist of three main thermoplastic techniques: McSpadden Technique, Hybrid Technique and Ultrasonic Sealing.
The McSpadden technique uses compactors, which are standardized stainless steel instruments similar to an inverted Hedstroem file. They are used with the contra-angle handpiece at low speed and are based on the principle of reverse rotation to compact the gutta-percha inside the ducts.
Hybrid root filling technique is Ideal for complicated cases, it is especially used for severe curvatures or narrow ducts. This technique is very simple and is capable of filling irregularities and can correct the filling, with results almost impossible to achieve with other techniques.
Ultrasonic filling technique offers multiple advantages, since it allows working with the handling of the length of the ducts, and replicates the three-dimensional shape of the ducts adapting to them, the heat is generated only during ultrasonic activation, there are great diversity of sizes of the tips and these can be pre-curved.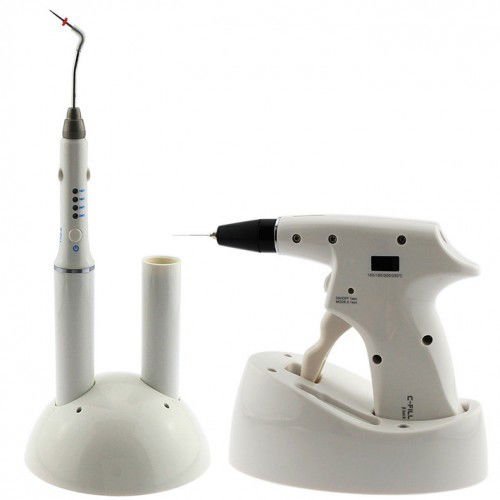 Advantages of the thermoplastic gutta-percha technique:
This technique produces an increase in the density of the gutta-percha in the apical region, avoids filtrations or empty spaces.
It provides a greater fluidity in the lateral ducts, filling accessory ducts.
It produces a totally homogeneous mass in the whole duct. It has a better adaptation to the destination.
The thermoplastic gutta-percha reduces the stress applied to the root.
Injectable systems of high and low temperature thermoplastic gutta-percha show better results than traditional lateral condensation.( Endo Obturation System)
The dental professional can dedicate less work time and ease in the treatment of cases complicated by endodontics performed.
The three-dimensional obturation of the properly shaped and prepared root canal is the ideal root canal treatment, as it avoids microfiltration and the passage of microorganisms, making the apical healing process easier. System B is a variation of the vertical condensation technique, as it uses heat but controls it by means of an adjustable device. It is based on the fluidity of the gutta-percha when plasticized rather than on the pressure exerted on the obturator material.
How to avoid most common cartridge loading problems of dental x-rays